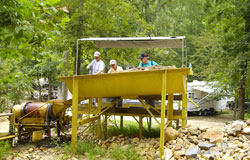 Thermal City Gold Mine offers recreational Gem Mining NC and Gold Panning NC equipment for sale. We are an authorized dealer for Keene engineering.
We carry high banker/dredge combination, prospecting supplies, a wide variety of prospecting books, sluice boxes, gold pans, pumps, and tons more! We provide you with everything needed to be the most productive prospector you can be!
HIGH BANKERS and TROMMELS
Our trommels and high bankers are available to rent daily.  The morning shift starts at 9 a.m. and the afternoon shift starts at 1 p.m.   You can call the office to check availability or reserve a machine.
Available Mining Supplies
OPEN MARCH 15 TO October 31 ,   8:30AM TO 5:00PM 7 DAYS A WEEK